The first thing that crossed my mind when I woke up at 7am today was that I do not want to eat out for lunch. Everyone wants to pack a healthy and tasty snack to save cash but the convenience of eating out is far more attractive. I don't know your morning routine but I reckon you brush your teeth, shower, get dressed and fill your pockets with the essential accessories like keys, phones, cigarettes etc…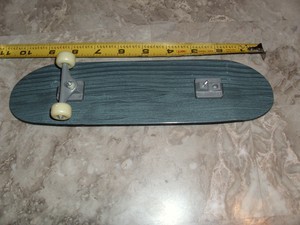 I broke my routine today and grilled some pork chops at 7:30am – most likely also breaking the world record for earliest grill session ever. It was a rockin' morning then I grabbed my skateboard to head to the bus stop with the sun shining and music in my headphones.
Then all of a sudden one of my wheels took an unexpected adventure underneath a parked car – just when I thought my morning could not be better.
I was furious because I just bought this board two days ago. I spent five minutes searching for the bolt that secures the wheel, then gave up and carried my board the rest of the way. A skateboard with three wheels is about as useful as a post-it note without a sticky side. It just doesn't function like it should.
Anyway, I went straight to the shop I bought it from to buy another bolt, thinking a skate shop would have some spare parts (not too foolish of a thought) Nope, not in Bucharest. These folks at U-MAN weren't kind enough to spare me a single nut…  The sales person didn't think it was a good idea to just give me a bolt from a pair of trucks on sale, stating that no one would buy the product if they didn't have both the bolts. I understand his logic but damn, I just bought a pair of shoes and a skateboard from this store two days ago? What's so hard about giving me a bolt so I get on with my day?
In the meantime, the other employees were dusting off product and opening up shop – not giving a damn about my three-wheeled skateboard. So I walked out and accidentally slammed my head on the overhang. That was the final straw. I walked to the metro cursing in my head.
Guess what Jordan? You're not in America anymore and Romanians have yet to wrap their mind around the type of customer service that keeps customers coming back.
To end this story, I went to this other Boarders shop where a cute girl screwed on a bolt in five seconds. I asked how much I owe and she said "Don't worry about it".
I'm not used to getting the "Don't worry about it type of answer", but there is always a place and time for it.